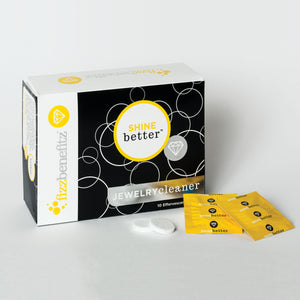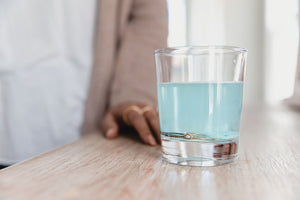 Product image 1

Product image 2

Product image 3

From the family heirloom you save for special occasions to the lucky earrings you wear every day, jewelry holds a lot of value. Yet, it's probably the last thing on the list to take care of. Dirt and grime builds up over time and makes what once sparkled and shined look dull and worn. Fizz can fix that! Our no hassle jewelry cleaner can bring back the shine and make those valuables look new again. A simple rinse and soak is all it takes. No harsh chemicals or hard scrubbing. Just let the bubbles do the work. A perfect shine without the hassle? That's a better life with bubbles.
Effervescent jewelry cleaning tablets
Dissolve in water and soak jewelry for 10-15 minutes
Safe on most jewelry (avoid use on pearls and porous gemstones)
10 tablets per container
Usage Instructions
Keep foil packet sealed until ready to use. Place unwrapped tablet in a cup or bowl with approximately 8 oz of hot water. While the tablet is effervescing, add jewelry to the solution. Soak for 10 – 15 minutes. For a deeper clean, soak for up to 30 minutes. Remove jewelry from the solution, rinse with cool water and blot dry. Solution may be safely disposed of in the sink.

For best results soak jewelry in Shine Better Jewelry Cleaner once or twice per month and visit your jeweler every six months for routine care.

Do not use on pearls or other porous gemstones (including but not limited to Coral, Lapis, Turquoise, Malachite and oil treated stones). For confirmation, ask your jeweler.

Caution: Avoid contact with eyes. In case of contact with eyes, flush with water immediately. If irritation persists, consult a doctor. Keep out of reach of children. Not to be taken internally. If accidentally ingested, seek medical help or contact a Poison Control Center immediately.
Product Videos