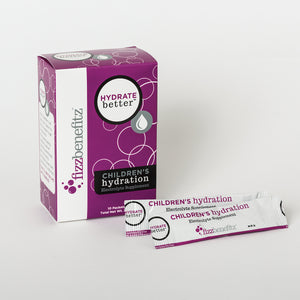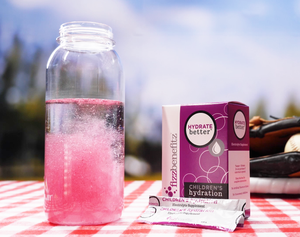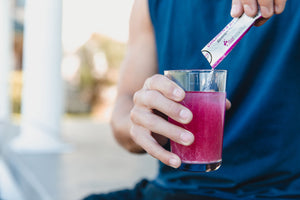 Product image 1

Product image 2

Product image 3

Let's face it, keeping our kids hydrated is an everyday challenge. Whether they're sick or running around having fun, kids need to stay hydrated. Of course they want sugary drinks instead of water or an electrolyte supplement that tastes like medicine. What if there's another option? In comes FizzBenefitz children's electrolyte powder to the rescue. Not only will kids love the great taste, they'll also love the sights and sounds of fizz! With a mom-approved, all natural ingredient list free of artificial colors, flavor and sweeteners, you'll feel good about every sip. Suddenly, getting them to drink water won't be a chore for you but fun for them! Tired of plain water yourself? You'll love it too! Hydration, plus great taste and fun? That's a better life with bubbles. 
Effervescent electrolyte powder
Berry flavor
All natural- no artificial flavors, colors or additives
Replenishes electrolytes lost to sweat or sickness*
Promotes optimal hydration for children and adults*
10 servings per container
Supplement Facts
Usage Instructions
Mix one packet of Hydrate Better Electrolyte Powder with 8 fl oz water. Blend packets with water only. Stir to dissolve.
Tastes best when served cold.
To help maintain proper hydration, the child should consume 4-8 servings (32-64 fl oz) per day.
Warning:
For children under 12 months, consult your doctor regarding hydration needs. Ask a doctor or pharmacist before using if you are not sure. Stop use and ask a doctor if there is vomiting or fever, or if diarrhea continues beyond 24 hours. These could be signs of a serious condition. Keep out of reach of children.
Product Videos